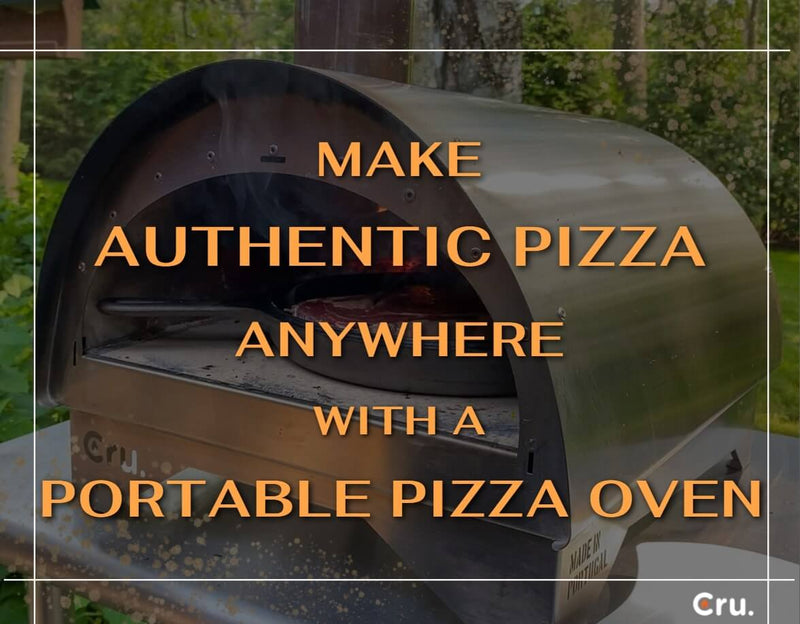 A portable pizza oven can change your life. This may sound like a bold statement, but we stand behind it, and here's why. 
Delicious, homemade food prepared with love and care is part of living a good life, whether it's a relaxed dinner-for-one at home or a joyful celebration with family and friends.
Food is at the center of our happiest times, and a portable wood fired pizza oven puts these experiences within arm's reach at all times. 
Learn how to make an authentic pizza without having to use power with a portable pizza oven outdoor that you can take anywhere, anytime byCru Ovens.
Benefits of a Portable Wood Fired Pizza Oven
Portable outdoor pizza ovens transform meals into something truly special, from prepping and cooking to plating and eating. 
Of course, the main event is sitting down to enjoy crispy, wood-fired pizzas loaded with the perfect toppings and just the right amount of sauce and seasonings. 
But the experience and the benefits of a portable wood oven start well before the first bite. ‌
Portable Outdoor Pizza Ovens Do Not Require Power
The very first thing that you'll notice about your portable outdoor pizza oven is that it's a breeze to set up. 
Simply pop the dome onto the base and then attach the vent and door. It comes together in under one minute. 
And because it cooks using a wood fire, just like the kind you build when camping, it doesn't require any external power source or electrical outlet. This also means no heavy propane tanks to lug around like you'd need for a barbecue. 
On that note, did you know that your portable pizza oven can pretty much take the place of a barbecue? 
You aren't limited to portable wood oven pizza recipes (although you havevirtually endless options for those). You can also make a wide variety of other foods in your portable wood oven, includingfluffy dinner rolls,succulent steak,finger-licking chicken wings, and more.
‌
Portable Wood Ovens Offer Different Flavors Using Different Woods and Coal
Portable outdoor pizza ovens are also wonderfully versatile in the flavors they can create. You can choose from a wide range of flavored woods to achieve an amazing variety of tastes and aromas in your dishes. 
Are you looking for a flavor profile that's robust and distinct? Hickory, mesquite, pecan, and oak are some of your best bets. Do you prefer a lighter, more subtle smokiness? Maple, apple, and alder can all do the job. ‌
Or, if you want an entirely different flavor profile from wood, you can also use coals for a tantalizing, charcoal-broiled taste. 
No matter which direction you decide to go, having a portable outdoor pizza oven gives you the freedom and flexibility to experiment and come up with your own unique recipes, made exactly to your and your family's preferences.  
Want to experience the benefits of a portable wood pizza oven of your own? Start enjoying the ease and flexibility of outdoor cooking at its finest with asleek, well-designed CruOven made in Portugal with premium materials, including stainless steel and Portuguese stone. 
Take Your Portable Pizza Oven Outdoor Anytime & Anywhere
Aside from all the delicious food you can make, one of the best features of a portable wood burning pizza oven is that it can go pretty much everywhere with you. 
From backyard bashes to beach barbecues, high-quality pizza is always on the menu, with no need for the hassle and expense of ordering delivery.  ‌
Use a Portable Wood Pizza Oven Outside in the Backyard
Backyard dining gets elevated to an entirely different level when you have a portable wood burning pizza oven, especially at family barbecues. 
One idea that we love is to hold a "make your own pizza" party, where you set out pre-rolled pizza dough, sauce, and toppings and invite everyone to go crazy building their own personal pizzas. 
Kids especially love to get creative with this, but it's definitely fun for the whole family. When the pizzas are sauced and topped to perfection, simply pop them in the portable oven for baking, and then voilà! 
Everyone will be amazed at how fast, easy, and delicious it is to make pizza from scratch in the backyard.  
Bring Your Portable Wood Burning Pizza Oven To a Friend's House
Pizza is party food, so the next time a special occasion comes up — be it a friend's birthday, graduation, engagement party, baby shower, or an impromptu get-together — you can be ready to impress with your portable wood fired pizza oven. 
Just toss it in the trunk, head over to your friend's house, and get things fired up. As the bringer of pizza, you'll be the life of the party and make a much bigger impression than if you showed up with just a bag of chips or a six-pack of soda. 
You Can Bring Portable Wood Fired Pizza Ovens to The Beach
Did we mention that portable wood fired pizza ovens are perfect for the beach, too? Well, they are. When you plan your next beach day trip or weekend getaway, don't forget to bring your portable oven with you! 
Just imagine this. The sun is setting, the waves are lapping gently at the shore, and your stomach starts rumbling. All you have to do is fire up your portable oven and, in a matter of minutes, a crispy, delicious, wood-fired pizza is on the way. 
Cooking your own pizzas on the beach is a great way to save money since you don't have to pay restaurant prices for a waterfront dining experience. 
Plus, it's a great way to make new friends. The crackle and glow of a portable wood fired pizza oven tend to attract lots of interest and enthusiasm from others (and maybe just a touch of envy, too). 
CruOvens Is the Best Portable Pizza Oven
Not all portable wood ovens are created equal. So if you're ready to take the plunge and buy one, you're probably wondering, which is the best portable pizza oven on the market?
You'll want a wood-fired portable pizza oven that's not only light, durable, and easy to carry but one that's also a joy to use. CruOvens are designed to offer the ultimate in safety, efficiency, and style. Let's take a closer look at what makes them so exceptional. 
Portable Wood Fired Pizza Ovens Come Apart for Easy Cleaning and Carrying
When CruOven designer João Domingues first started envisioning his plans for a wood-fired portable pizza oven, he wanted the final product to be truly portable. That meant it had to be light, easy to carry, and simple to set up. 
That's why CruOvens are made of three separate pieces that can be taken apart for easy carrying and then reassembled quickly. This three-part design also allows for deep cleaning so that maintenance is hassle-free. 
Cru's Portable Wood Ovens are Designed and Made in Portugal
Another distinctive feature of CruOvens is that they're unbelievably stylish. A totally different beast from mass-produced, factory-created portable ovens, these gorgeous units are carefully crafted in Portugal from only the highest quality materials, including coveted Portuguese stone. 
Domingues wanted to create something more than just an appliance, but anexperience — one that did justice to the passion and exhilaration of cooking. Thought and care went into every line, curve, and form of the CruOven so that it's not just a piece of cookware but a design element in any outdoor space.  
Fire and Stone Cooking With a Portable Pizza Oven Outdoor
The best portable pizza ovens bring out the unique flavors that only fire and stone cooking can offer.
Gas ovens are the standard in most homes, but the truth is, they have a few drawbacks when compared to cooking with fire and stone. 
They're temperamental, which can lead to food that's cooked unevenly. However, the biggest drawback is when it comes to flavor. Cooking with fire and stone imparts a lovely and distinctive flavor and aroma to foods, which simply can't be matched by gas ovens. 
Is a Portable Pizza Oven Worth it?
The answer is a resounding "yes!" A portable pizza oven is absolutely worth it. In most cases, it pays for itself in short order when you consider the savings from no longer having to order from your local pizza place. But the biggest reason that makes a portable wood burning pizza oven worth it is how it enhances your quality of life. 
Having access to hearty, wholesome, homemade food is a huge boost to your physical health. A portable wood pizza oven means that crispy, savory, tasty pizza that has all of your favorite toppings (and no artificial additives or other weird stuff that may be in your local chain restaurant's pizza) is always within reach. 
It's also an excellent way to stay connected to friends and family, which is so important for mental and emotional well-being. A portable outdoor pizza oven is an excuse to get together for the big moments, like birthdays and anniversaries, but also for the little ones, like a sports game or a casual Saturday evening dinner in the backyard. 
Once you start enjoying all the benefits of your wood-fired portable pizza oven, you will no longer ask, "is aportable pizza oven worth it?" The question will be, "how did we ever live without one?"