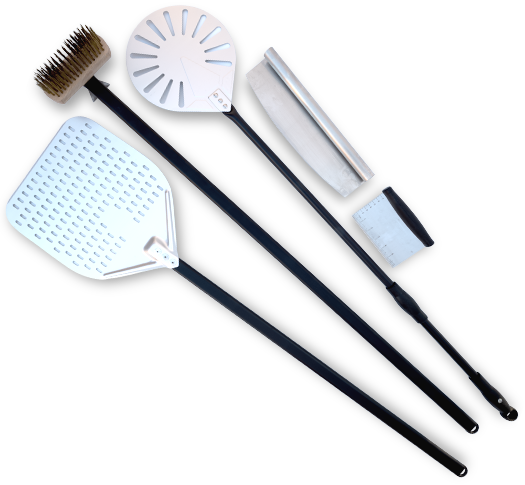 Is pizza a regular weekly meal at your home? Do your children eagerly wait for pizza nights to indulge in this undeniably delicious dish? How about upping the ante with a slice straight from a wood-fired oven?
You probably didn't know this but making a pizza in a wood-fired oven is the best thing you can do to amp up its taste. And there's some science behind it, so this practice holds value!
At Cru Ovens, we provide the finest backyard wood-fired ovens, so families can enjoy pizza with the most authentic taste. It's time you bring one home to make delicious pizza whenever you please.
Here are the top reasons why a pizza cooked in a wood-fired oven tastes better:
Bolder Flavors
Any dish cooked over a fire tastes much better! Ever wondered why? A mild smoky taste from the burning wood is immediately incorporated into the ingredients, enhancing its taste multifold. The same happens when you bake a pizza over an open flame. Its dough and the toppings absorb the smoky aroma, offering just the right amount of a distinctive and bold taste, which is absent from a conventional-oven pizza.
Cooks Faster
A conventional oven takes time to bake a pizza. But that's not the case with a wood-fired oven. A wood-fire oven can achieve temperatures of 700–800 degrees (Fahrenheit), significantly shortening the time it takes for your pizza to bake. So, ingredients lose little to no moisture and aromas, which happens when they are exposed to high temperatures for an extended period.
You don't have to worry about controlling the temperature constantly or waiting for the oven to rise or drop to prepare a perfectly cooked pizza. Once the fire has been lit, a wood-fired oven, with careful tending, is ready to go all night! Entertaining guests will be a breeze.
Creates Crispier Crusts
Put an end to soggy crusts! A wood-fired pizza crust will be crispy on the exterior and soft and chewy on the interior because of the high oven temperature. This trio of ingredients is what makes the pizza crust perfect.
A thin crust is the ideal pizza base choice for a wood-fired oven. A couple of key pointers to follow to ensure you always get the best crust and pie include:
Pizza tops cannot dry out because of the short baking period, so utilizing too many vegetable toppings may result in excessive moisture buildup and soggy crusts.

To savor the crunchiness, devour the pizza fresh out of the oven.
What Else Can You Cook in A Wood-Fired Oven?
The fantastic thing about wood-fired pizza ovens is the different uses you can put them to. You can cook anything you want, just like in a standard oven. All you need are the proper utensils and determining the right temperature.
Once you've mastered using your outdoor pizza oven, you can prepare delicacies like:
Veggie roasts

Grilled or baked fish

Meats cooked slowly

Burnt ribeye steak

Grilled and smoked meats

Potatoes in a jacket

Freshly made loaves of bread

Flatbreads and focaccia

Shrimp, potato wedges, and baked feta

Casseroles and stews

Spicy desserts
Our outdoor ovens have pizza accessory packs available in our online sale to assist you on your journey. The pack includes a large peel, a spinner, a bristle brush, a bench scraper, and a pizza cutter. Even though these are standard pieces of equipment, you can also invest in grilling racks, cast iron skillets, covered casserole dishes, and smoking kits to diversify your cooking options. Get a Cru Oven today!